In the ever-evolving world of smartphones, Apple has once again raised the bar with the release of the iPhone 15. Positioned as the base flagship model, it brings a host of improvements that many anticipated in its predecessor, the iPhone 14. In this review, we'll delve into the nuances of the iPhone 15, highlighting its notable features, design changes, camera upgrades, performance, and any potential downsides, Let's do an iPhone 15 Pro Review on every aspect.
Design and Unboxing Experience
Apple's attention to detail is evident right from the moment you unbox the iPhone 15. While the unboxing experience remains familiar, the standout addition is the inclusion of a durable USB-C to USB-C braided cable. This choice is a step towards enhanced durability, although only time will tell how it fares in the long run.
Design-wise, the iPhone 15 has undergone noticeable changes, starting with the removal of the notch, replaced by the Dynamic Island introduced in the previous Pro models. The removal of the notch results in a unified look across the iPhone lineup. Holding the iPhone 15, you'll appreciate the subtly curved edges that make it more comfortable to grip.
One standout feature is the new matte-finish, color-infused back panel. This innovative texture not only adds a touch of sophistication but also helps in reducing greasy fingerprints, maintaining the device's clean appearance. The addition of a USB-C port, while welcome, doesn't offer faster transfer speeds compared to the Pro models.
The iPhone 15 comes in five vibrant colors, including Black, Green, Yellow, Pink, and Blue, with each variant bringing its unique charm. The Black variant we reviewed exudes elegance, with a graphite hue dominating the back panel.
Display: A Mixed Bag
The iPhone 15's display is a blend of good and somewhat disappointing elements. It now features the previously Pro-exclusive Dynamic Island, along with all the associated software functionality, including Live Activities for real-time app updates. However, the major letdown is the decision to stick with a 60Hz refresh rate, unlike most Android competitors in the same price category.
This choice to not incorporate a higher refresh rate display might disappoint users accustomed to smoother 120Hz or 90Hz screens. The absence of this feature is conspicuous in an otherwise premium device.
On the bright side, Apple has enhanced the iPhone 15's peak HDR brightness to 1600 nits and outdoor brightness to 2000 nits, offering improved contrast levels and enhanced HDR content on streaming platforms like Netflix.
The display specifications remain consistent with a 6.1-inch Super Retina XDR OLED panel, boasting a pixel resolution of 2532 x 1170 and a pixel density of 457 PPI.
iPhone 15 Pro Review Camera: The Star Upgrade
The iPhone 15's most compelling upgrade revolves around its camera system. Photography enthusiasts will appreciate the new 48MP main camera, capable of capturing highly-detailed shots. By default, the camera uses pixel binning technology to produce more storage-efficient 24MP photos while retaining higher detail than its predecessor.
Apple's surprise inclusion is the option to toggle to the full 48MP mode, giving users more control over their photography. However, it's essential to note that shooting in 48MP mode requires ample lighting, as it sacrifices some low-light capabilities.
The higher megapixel count also enables a high-quality 2x zoom, although it's important to clarify that this isn't a dedicated telephoto camera. The continuous zoom feature ensures smooth transitions between 1x and 2x zoom levels.
Apple has also streamlined Portrait mode, automatically detecting subjects and capturing depth information, even in non-Portrait mode shots. This added flexibility allows users to adjust focus and convert photos into portraits after they've been taken.
iPhone 15 Pro Camera Review and Performance: Day and Low-Light
Source Apple
In real-world usage, the new 48MP camera shines during daylight photography. The increased detail levels and improved HDR contribute to noticeably better images. The HDR no longer overcompensates shadows, ensuring a balanced exposure.
In low-light conditions, the iPhone 15 seamlessly transitions to 12MP mode to capture more light, resulting in well-exposed shots with preserved shadows. Users can still enjoy enhanced detail in artificial lighting conditions, as seen with the 24MP default setting.
While the 2X sensor crop offers better zoom quality, it's essential to manage expectations, as it falls short of a dedicated telephoto camera's capabilities. Zooming in further reveals some limitations in text clarity due to AI enhancements.
Ultra-wide Camera and Selfies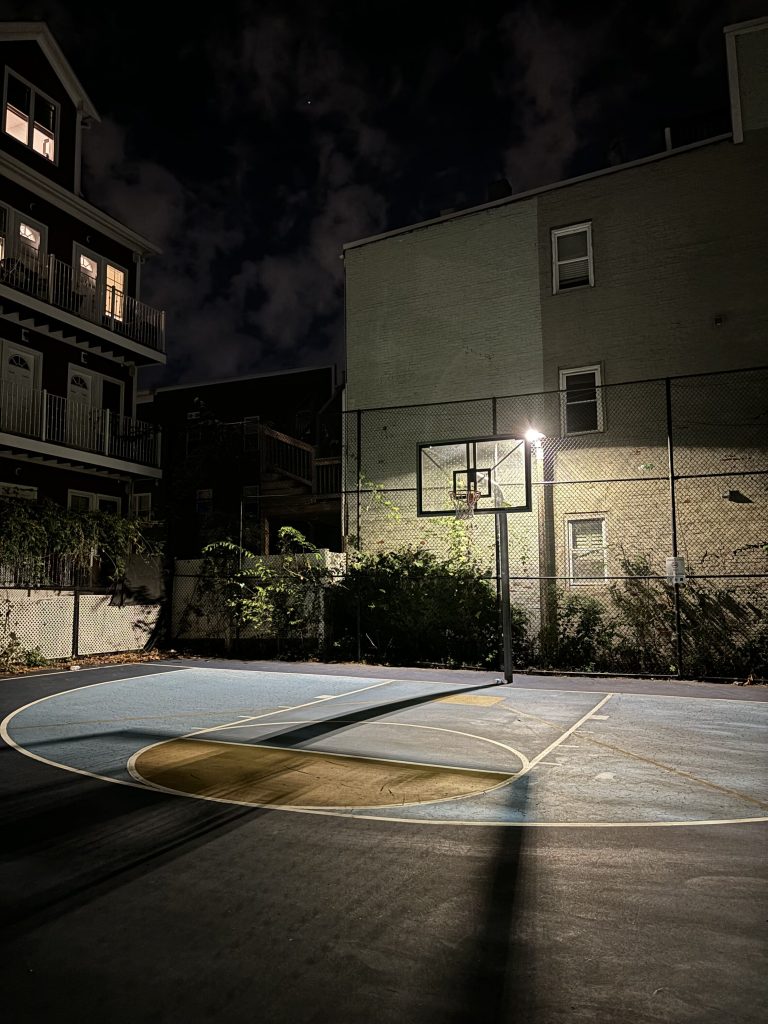 The ultra-wide camera maintains its 12MP resolution and wide field of view. While Apple promised improved HDR and Night Mode performance, the results are more apparent in HDR than low-light shots.
Selfies from the front camera showcase minor tweaks in quality but remain consistent with previous models.
Video Quality
When it comes to video quality, the iPhone 15 stands out as one of the industry's best performers. Its clean, crisp videos and robust video stabilization surpass most Android competitors. Notably, the video quality between the iPhone 15 and its Pro counterparts isn't significantly different.
However, it's worth noting that the device relies on digital zoom, limiting its capabilities in this area. For users who prioritize high-quality video and post-editing, it's important to mention that ProRES recording is exclusive to the Pro iPhone models.
Performance: A16 Bionic Chipset
Under the hood, the iPhone 15 boasts the A16 Bionic chipset, an upgrade from the previous model. While the performance improvements are discernible, they might not be overwhelmingly noticeable to the average user. The A16 chipset offers an 18% boost in graphics performance and a 7-11% increase in processing speeds compared to the A15, making it a solid performer.
With 6GB of RAM, the iPhone 15 delivers smooth navigation and seamless multitasking. However, it's essential to remember that numbers are only part of the equation, and Apple's optimization plays a significant role in delivering exceptional performance.
Connectivity and Software
The iPhone 15 introduces a second-generation Ultra Wideband chip, extending its range for connecting to compatible devices. This chip enhances features like Precision Finding in Find My Friends.
A notable addition is Roadside Assistance via satellite, a valuable feature for those unexpected vehicle breakdowns. Initially launching with AAA in the U.S., it's a complimentary offering for two years with an iPhone 15 purchase.
The device runs on iOS 17, offering several enhancements in communication and connectivity. Features like customized appearance on a recipient's call screen and NameDrop for easy contact sharing stand out. iOS 17 also introduces Journal, a dedicated app for journaling daily experiences.
Battery and Charging: USB-C port
Battery life on the iPhone has remained consistently impressive since the iPhone 13 series. Unfortunately, the iPhone 15 doesn't bring any noteworthy improvements in this department, yielding results similar to its predecessor.
Despite the adoption of the USB-C port, the charging speed remains capped at 20W for wired charging. This is a missed opportunity, especially when considering the absence of a higher display refresh rate. The 15W MagSafe wireless charging also remains unchanged.
Audio Quality and Haptic Feedback
The iPhone 15 continues to deliver exceptional audio quality, maintaining its status as one of the best-sounding smartphones on the market. The haptic feedback, driven by the TapTic engine, offers a satisfying and immersive user experience.
Summary: A Compelling Upgrade with Caveats
In comparison to the iPhone 14, the iPhone 15 represents a notable step forward, especially in its camera department. The 48MP main camera delivers stunning results, with enhanced detail and improved HDR. The design changes, including the removal of the notch and the addition of the matte-finish back panel, contribute to a more refined appearance.
However, some trade-offs are worth considering. The decision to stick with a 60Hz display refresh rate in an era of higher refresh rates in competitors' devices is disappointing. Additionally, the underutilization of the USB-C port leaves room for improvement.
Ultimately, the iPhone 15 positions itself as a solid choice for those who prioritize camera performance and a refined design. However, potential buyers should weigh these strengths against the absence of a higher refresh rate display and limited use of the USB-C port. Depending on your preferences, exploring refurbished or second-hand iPhone 14 Pro models might provide a more balanced alternative in the same price range. For those seeking alternatives, Google's Pixel 8 and Samsung's Galaxy S23 offer competitive features, including higher refresh rates and dedicated telephoto cameras, often with attractive discounts.