in this comprehensive OnePlus Keyboard 81 Pro Review The collaboration between OnePlus and Keychron has resulted in the highly impressive OnePlus Keyboard 81 Pro, a mechanical keyboard that promises to elevate your typing experience to new heights. Packed with enthusiast features and sporting a compact design, this keyboard offers a level of customization that will delight any keyboard aficionado.
OnePlus Keyboard 81 Pro Review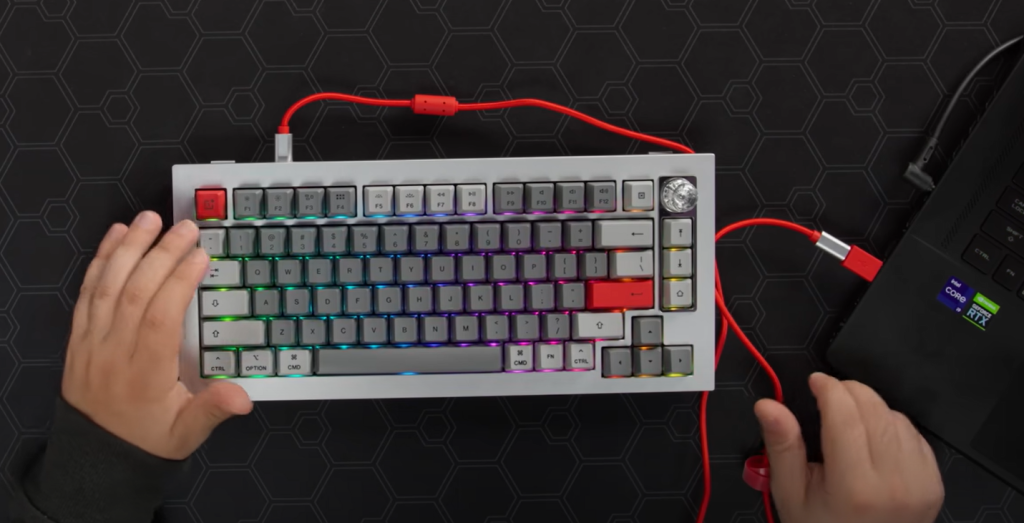 Pros:
Attractive Design: The OnePlus Keyboard 81 Pro boasts a sleek and stylish design, with a smooth silver anodized finish that catches the eye.
Good Value with Advanced Features: Despite its $219 price tag, the keyboard justifies its cost by providing a plethora of advanced features that enhance the overall user experience.
Open Source Customizable Firmware: Running on the QMK firmware and VIA programming interface, this keyboard allows users to customize key functions and RGB lighting effortlessly.
Hotswappable Switches: The inclusion of hotswappable switches means you can easily replace switches to fine-tune the keyboard to your preference.
Excellent Compact Layout: With a 75% layout, the OnePlus Keyboard 81 Pro optimizes desk space and promotes better ergonomic positioning by keeping the mouse closer.
Cons:
Mediocre Included Keycap Set: While the OEM-profile keycaps get the job done, they may not meet the expectations of discerning users.
Extra Cost for Custom "Marble-mallow" Caps: The exclusive "Marble-mallow" keycaps are available at an additional cost, which may not sit well with some buyers.
Limited Color Option: The keyboard only comes in silver, limiting choice for those seeking other color options.
Slightly Mushy Feel and Key Sink: Some users may find the keyboard slightly mushy with increased key sink, especially towards the edges.
High Price Tag: At $220, the OnePlus Keyboard 81 Pro might be considered pricey by some, especially when compared to budget alternatives.
The OnePlus Keyboard 81 Pro represents the tech giant's successful foray into the mechanical keyboard market. It boasts a trendy compact layout, with a rotary encoder knob adding to its premium appeal. The gasketed internal design helps reduce clicking and rattling, but it does have some minor issues with mushiness, particularly for heavy typists. Additionally, the included keycaps, while functional, leave room for improvement in terms of aesthetics.
The keyboard shines in terms of connectivity, offering both USB-C and Bluetooth options. The latter provides reliable performance and impressive battery life, even with RGB lighting activated.
What sets the OnePlus Keyboard 81 Pro apart is its level of customization. Users can choose between tactile Winter Bonfire or linear Summer Breeze switches, and the hotswappable feature allows easy switch replacements. The QMK firmware and VIA programming interface further enhance customization possibilities, allowing users to configure key functions and per-key RGB lighting effortlessly.
Overall, the OnePlus Keyboard 81 Pro may have a few minor flaws, but its extensive range of features and impressive design make it a highly appealing mechanical keyboard. If you're looking to elevate your typing experience and enjoy the thrill of customization, the OnePlus Keyboard 81 Pro is undoubtedly worth considering, despite its slightly higher price point